HDRLab Home
Kia-Ora! Welcome to HDRLab. My name is Hans de Ruiter, and this website is devoted to various software development/engineering projects of mine (mostly Amiga OS 4 related) and anything else that I find interesting (e.g., electronics, mechatronics, or anything engineering related).  If you're into technology, building things, or are just curious, browse through this site using the menu above, or have a look at the recent updates below. Feel free to contact me if you have any suggestions.
Recent Website Updates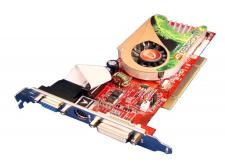 The goal of this project is to write Amiga OS 4.x graphics drivers for R5xx and higher graphics cards, both 2D and 3D. One of the motivations for this is that, my computer vision research extensively uses shaders that are present in modern GPUs. None of the existing supported graphics cards for Amiga OS 4.x support shaders.  Shaders are rapidly becoming an essential component for running newer games. Rather than write 3D drivers from scratch, Gallium3D - the new driver system for MESA - will be used.
Many people have been asking me for advice as to which Radeon HD graphics card they should buy for their Amiga. So, here are my recommendations. For the lazy, there is a quick summary at the end of the page. But first, a quick disclaimer:
This page lists all hardware that has been tested with the RadeonHD.chip driver. A list of places to buy these cards can be found here.
New Zealand is on the Pacific rim of fire, and so has volcanos and periodically experiences earthquakes. This geological activity has shaped the stunning scenery that New Zealanders (and visitors to the country) enjoy. It also occasionally makes you jump when a strongish earthquake hits the local area, as happened recently. Eruptions of molten lava, ash, or just boiling mud happen once every several years, which can close airports due to the danger of fine ash clogging up the jet engines.
While wxWidgets provides an extensive amount of classes and widgets, one area where it did not meet my needs was printing. Sure, wxWidgets contains everything needed to print, but it is designed to use the Operating System's (OS') built-in print and page setup dialogs. These dialogs were inadequate for my needs. So, I set out to create a custom dialog. I quickly discovered that wxWidgets did not provide a means to get the information necessary to build such a dialog. Functionality for simple things such as getting a list of all printers, and the page sizes supported by a printer were not available. So, I decided to create a custom print module to address this short-coming. Rather than creating a new dialog class, this toolkit provides an API to obtain the necessary information and functionality for a developer to create their own dialog class. In my opinion, this provides the greatest flexibility.
There hasn't been much activity on this blog or website lately. In fact, this is the first post to this blog in almost six months! This is just a quick post to let you know that I'm still here, but just incredibly busy. 
Occasionally I see comments on AmigaOS related forums asking what advantage Radeon HD cards have right now (NOTE: When writing this, 3D drivers were still not available). While this question will soon be irrelevant when the Warp3D drivers arrive, it is a legitimate question. Well, today I was sent a link to a youtube video that gives a pretty clear answer to that question:
With the Sam460ex recently going on sale and including the RadeonHD driver, the driver has inevitably been tested on a wider range of hardware. While most hardware is working just fine, two people with a Sapphire Radeon HD 4350 reported (see here and here) that it didn't work with their cards. Most of their screens were filled with garbage. This surprised me as all Radeon HD 4350s tested previously worked just fine. So, suppressing my desire to grumble about people ignoring my recommendations (hey, it wouldn't have happened if you had got a Radeon HD 4650/4670 like I suggested ;-) ), I got to work tracking down the problem.
Bitcoin is a digital currency that is designed to work like cash. I first heard about it in the June 2012 edition of the IEEE Spectrum magazine. The idea of a digital currency that was not centrally controlled and worked like cash intrigued me, and the fact that it appeared in the primary magazine of the Institute of Electrical and Electronics Engineers added credibility. So, I decided to check it out.